So, I'm late AGAIN, geez, sometimes I amaze myself with my forgetfulness.
Letters of Intent
is brought to us by
Foursons
, so if you feel like writing a letter, just grab her button, and post your blog. Don't forget to link up so we can all enjoy your letter.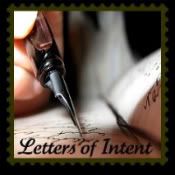 Dear Work Wife and Work Husband,
I know I voluntarily left you both. That didn't mean that I wanted y'all to cheat on me with each other just cuz y'all are still together and I'm here at the corp office, so far away and lonely. So bite me you cheatin bitches...LOL!!!
The worst thing is I think y'all planned this, each of you encouraged me to make this move and now look, I'm gone and y'all are all hooking up without me...r u kiddin me???
See, I knew you'd be miserable without me but I never knew you'd sink to this level. The chatting, the pet names, the laughing, all of it, y'all are doing all of that without me. I'm so left out.
Then, today, well, today, I find out that work wife is playing the biggest, bestest prank EVER on the work husband and I'm not there to enjoy it. Now, I know the work wife is going to send me pictures, but it won't be the same. It just won't.
So, the work husband is off playing on vacation in Mexico, trying to kill his liver, the work wife is playing a HUGE ASS prank on him, and I'm sitting here in my cubicle all alone.
I heart y'all, you cheating bitches!!!
Love,
Aunt Crazy