I've been thinking about my Letters of Intent post for 2 days. Last night, I had it all planned out. I was going to write letters to my kids, I mean I still am and all, but what are the odds that I've been planning to write letters to my kids and
Foursons
letter this week is to one of her kids...great minds think alike...right, right y'all??? LOL
So, if you have something important or irrelevant to say, hop on over to
Foursons
, grab her button, and post your letter on your blog. Don't forget to link up with that cool McLinky thingamabob she's got over there too!!!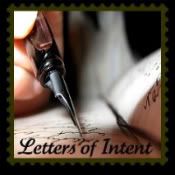 Dear Boykid,
I love you and you are amazing in so many ways. You are smoking hot (or at least you tell me you are every day), you are brilliantly smart, athletic, faster than a speeding bullet, and an adrenaline junky courtesy of Uncle Bubba. It is hard for me to imagine that you will be graduating high school in a year and a half. Did I mention that I love you??? Cuz, I do. Now, all that said, you better stop talking back to me and being disrespectful. This isn't a request, it is an order. Your dad and I do not expect too much from you. You have a nice truck, insurance, fuel, and fun money. In return, we ask that you be good in school and make a B or better. So, please, tell me, WHY OH WHY do you have three D's on your first report card of your junior year? WHY??? Do better, k? Moving on, please stop giving me heart palpitations! You started this when you were in 3rd grade and declared that you wanted to be an attorney and ONLY Harvard Law School would do. To a mom who was struggling and a dad that was busting his ass at work every day, this gave us great pause. Well, I'm not sure that Uncle Bubba was all that worried, but I was terrified of how we would pay for that! LOL These days, you are giving me heart palpitations with all this talk of joining the Marines. Being a Marine is something to be proud of and it's noble and I love Marines, they protect us from those evil bastards that hate Americans, but I can't seem to wrap my mind and heart around the thought of MY BABY becoming a Marine and being sent off to fight off those evil bastards. I'll support you no matter what, I will, but wouldn't you much rather work a nice, safe job, close to home??? LOL
Love,
Your Crazy Mom with the heart palpitations
Dear Girlkid,
I just posted a letter to you a few weeks ago when it was your birthday, so you can go back and read it for the details, but the gist of it is, I love you. I do. Now, can you PLEASE stop being mean to me? I am your mom, I fix your hair and do your laundry and feed you and buy you stuff, so KNOCK IT OFF DAMMIT!!! You have an injured ankle, it requires surgery to fix it, being mean to me and being mad about it, is NOT going to change that fact. You will have surgery November 30 and that is that. The doctor isn't making it up, I'm not making it up, and NO it can not wait until "later". You love volleyball and softball and every time you play before the surgery, you run the risk of having a permanent injury that will require major surgery and may put you on the sidelines for the rest of your life. So, please understand, I am not being mean to you, I am not torturing you, and I most certainly am NOT doing this for the fun of it. So, stop being mean to me about it, k? Good, glad you understand and I look forward to living with a much nicer to mom YOU than the one I lived with last night!
Love,
Your Crazy Mom with the hurting heart