I'm pulling this post from the depths of my blog to link up with
Shell at Things I Can't Say
for
Magic Moments
!!! This was a Magical Moment for our whole family, something none of us will EVER forget!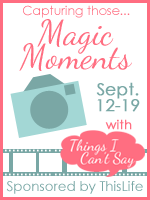 My nephew, Pickle Daddy, and his wife, Pickle Mama, were having a baby back in April of 2007. The doc told Pickle Mama that this baby was a girl with all the requisite girl parts. So, Pickle Grandma painted the nursery pink and hung purple wooden letters saying "SAMANTHA" on the wall.
The baby shower was a parade of pinkness in all of pink's glory. Pink cake, pink ribbon, pink punch, pink balloons, pink clothes, pink EVERYTHING...y'all get the picture right??? Everything was PINK and oh so sweet and GIRLY.
A sea of PINK y'all
So, the big day arrives and we all sit there waiting. Aunt Crazy was traumatized about labor and babies heartbeats during labor when giving birth to the Boykid but that's a story for another day. The important thing here is that y'all know, I'm traumatized, therefore I'm obsessed with watching the heartrate monitor. Baby Sam's heartrate wasn't doing so well and Aunt Crazy was freaking the fuck out, but the nurse caught it and handled it. The doc decided that Pickle Mama wasn't going to be delivering any babies, so he wheeled her off real quick like to have a C-section, all emergency-like, giving Aunt Crazy and Pickle Grandma heart palpations. All the while, we'd already been to the gift shop to purchase IT'S A GIRL balloons and shit.
It's a girl
So, we sit there waiting for Pickle Daddy to wheel Samantha around the corner for us to ooh and aah over and snap pictures with our phones and cameras and for Aunt Crazy to attempt to dive in and steal a kiss.
Grandpa & Grandma Pickle
Suddenly, we hear Pickle Daddy hollering and then we see him round the corner with a baby in a bassinet. Pickle Daddy is hollering at the top of his lungs...
"DAD IT'S A BOY!!!"
I'll never forget that day and the look on Pickle Daddy's face and how all the grandparents, great-grandparents, Aunt Crazy & Uncle Bubba immediately got on the phone, started calling everyone we knew to tell them that Samantha wasn't a girl, but a boy who would eventually become known to the whole family as Pickle.
On Monday February 1, 2010, Pickle Mama & Pickle Daddy will be welcoming a 2nd baby into their family. This time the doctor swears this baby definitely has all the requisite girl parts. We had another pink shower and Pickle Mama hopes like hell the doc is right this time, cuz she may go crazy if she had to live with Pickle Daddy, Pickle himself, and another mini Pickle...LOL She needs a girl to even the odds in her house.
Pickle Mama has been ready to have this baby for a couple weeks now, but I keep telling her to wait for her scheduled C-section date, cuz I'm traumatized by vaginal births and she knows this, so please, just squeeze baby girl inside until the doc cuts her out...LOL
I can't wait to meet this little baby girl and see what she looks like and hold her and kiss her and well, of course, buy her more pink shit and Astros clothes and LOVE her forever!!!
Pickle kissing Pickle Mama
Pickle is gonna make a GREAT big brother.