It's time for Letters of Intent, head on over to Julie's place for the full description, grab the button, post your letter, and link up. Easy peasy y'all.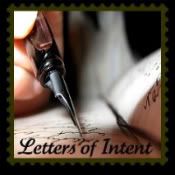 Dear Aunt Crazy's brain,
Please work with me here. I need blog material and apparently no one in the family or friend circle has done anything to spark my creativity and you, my brain, are failing me with by giving me NO funny shit to crack people up with. You have the weekend to get motivated cuz come Monday morning I'm fully expecting a weeks worth of blog material.
Sincerely,
Aunt Crazy