It's time for
Letters of Intent
. Head on over to
Julie's
house for the button, post your letter, and link up.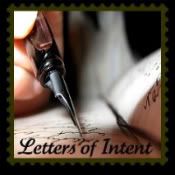 Dear follower that left me,
I wish I knew why you unfollowed me and I'm trying not to be hurt about it, but when a new blogger loses a follower, it's kind of hard not to feel just a tad of heartbreak.
Sincerely,
Aunt Crazy with a hurting heart
Dear Aunt Crazy's mental health,
Work with me here...I try to take care of you but sometimes I fail miserably, just F.A.I.L. I've known for awhile that you were breaking down but I tried to keep pushing on and well, really, just ignore the hell out of all the signs. But seriously, was it necessary to bring on a full blown panic attack this morning, in the middle of rush hour traffic, with a major thunderstorm going on no less, so I couldn't even smoke a cigarette to try and relieve some of the anxiety or chest pains I was feeling because I couldn't roll the window down???? I think not, you could have waited until later or better yet, just not ever had that little bit of fun with me at all. Seriously, what did I do to deserve these feelings of unrest and generally feeling unsettled, like I can't fit in with myself or my life??? WTF did I do to you, EVER??? Is this what a mid-life crisis feels like? Is 35 even in the mid-life crisis age range? Just go away and leave me feeling peace and bliss, k???
Sincerely,
Aunt Crazy who feels like she's suddenly going crazy and living up to the name