Head on over to
Foursons
to link up for
Letters of Intent
.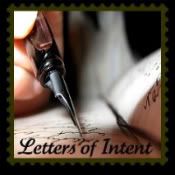 Dear professor,
Seriously, must you be so picky??? This is after all a 5 week class filled with information. Is it seriously necessary for you to deduct points because I did not repeat what I had already said several other times???
Sincerely,
the crazy pissed off
nerd
student that's trying to get an A
Dear Uncle Bubba,
Seriously, must you be so thoughtless??? When there is a family event to attend, especially when it's somewhere I've never been before, must you declare at the last minute that you'll meet us there???? I call bullshit...it's not right and I do not like it.
Sincerely,
your crazy pissed off wife