It's time for
Julie's
blog carnival,
Letters of Intent
. Be it true, mean, funny, or sarcastic, all you do is post your letters, grab the button, and link up...it's that easy!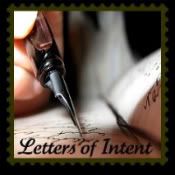 Dear Self,
I reached the age of 35 with nary a broken bone. Then by some fluke, my kitchen managed to throw a glass cake pan at me five weeks ago and break two bones in the top of my foot. Apparently, after all those years of neglecting my kitchen, cooking in it three nights in a row was just too much! I was in the ugly, oh so NOT stylish black boot with a soft cast for FOUR weeks, count them 1, 2, 3, 4!!! The doctor, one week ago, let me out of that boot with a promise from me to wear my tennis shoes. Picture me in my dress slacks and work blouse, with tennis shoes on my feet. No cute sandals, no flip flops at home, no strappy little heels...nope, tennis shoes, but I did it. I followed his rules for nearly a week. Then, Wednesday night, I lost my balance and fell. I knew the minute my foot landed that something wasn't right. So, I saw the doc yesterday, five weeks after my initial injury, only to be told that YES I had broken a different bone in that same foot. Another hot pink soft cast and fancy black boot. I cried, like a little BITCH, I cried, right there in the doc's office.
So SELF...WTF...knock it off, get healthy, stop breaking me...K???
Love a broken physically and mentally,
Aunt Crazy