Dee
at
Say Anything
asked me to participate in an interview at her place. I was stoked and felt all important and shit...LMAO!!! Anyway, head on over there and check it out. There are tons of other interviews over there with great bloggers. I've started following several of them since the interviews were posted.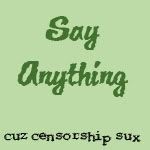 Thanks for reading my interview and checking out the
Say Anything
website. Please be sure and follow the blog too so that you can enjoy future interviews with other bloggers.
Love ya lots,
Aunt Crazy