It's time for
Julie's
quickly becoming mega-famous
LETTERS OF INTENT
! Head on over to her place, grab the button, post your letters, and link up. Don't forget to read the other LOI blogs too, they are a HOOT!!!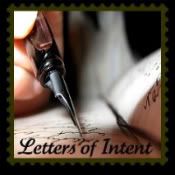 Dear Julie THE blog dominator,
Please don't be mad that we
BLUNKED
you. We were only playing around and besides
Brandi
started it. We love you. We didn't mean to give you a heart attack and look how many new followers you gained, starting with
Mr. Daddy
himself. Seriously, it was fun and we loved having fun at your expense, but we really really want you to achieve your dreams of Blog Domination!!! You truly handled it like a champ and even more important, look how many votes you'll get on the next
BOB
just because people feel bad for you!!!
p.s. can you send some of YOUR followers my way???
I HEART YOU,
Aunt Crazy