Click the button below to read more
Letters of Intent
.
Julie
writes some great ones and so do her followers. If you don't follow her, you should because she's well on her way to blog domination and she's accepting applications for coat tail follwers. I am first though, of course...so get in line people, get in line!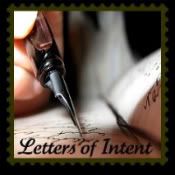 Dear self,
Suck it up and work. I know it's a beautiful day out and you'd rather be having lunch with your work wife and then some retail therapy, but it's not going to happen. You must work for a living, it's that simple. You do not live a life of leisure, so quit your bitching and move along with the tasks at hand, well, work AFTER you get done blogging.
Love,
Aunt Crazy
Dear rude bitch at lunch,
You are an adult, you should know how to stand in line, and you should damn well know better than to cut in line. ESPECIALLY after THREE people told you that you were cutting in line, but did you get out of line NO, you jumped in front faster and cut in front of THREE people. Not only did you cut in line, you ARGUED with me about it as if you were right and I was wrong. Bitch, little did you know, I am never wrong and I'll cut a bitch, well, I WOULD cut a bitch, IF I carried a weapon of some sort, so lucky for you it's an idle threat but a threat nonetheless, so back off bitch.
I hate you cutting in line bitch,
Aunt Crazy
Dear manager working the register at lunch,
When the lady cut in line, instead of making her go to the end of the line after THREE people told her she was cutting in line, you took her order...SERIOUSLY??? WTF is wrong with you? I mean, really, you are a grown ass man, running a restaurant, a customer filled restaurant. You should know how to handle these situations. Next time, do better, or else I won't come back to your place for lunch anymore and you can see I'm a fat ass that likes to eat there, so do what I say or else.
Your loyal lunch customer that has never seen the cutting in line bitch there before,
Aunt Crazy