It's Friday and time for
Letters of Intent
courtesy of
Julie
over at
Foursons
. Click the button to read her letter, to read other blogger letters, and to grab the code to put on your LOI, and then link up...easy peasy people, easy peasy.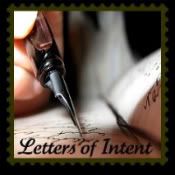 Dear lady in the red Corvette,
While I think it's GREAT that you drive a bad ass car, I do not, under any circumstances, think it's GREAT that you choose to drive 15 miles UNDER the fucking speed limit. Seriously, it's called RUSH HOUR for a damn reason, people are rushing to work...DUH!!! The pedal on the right is the one you need to push, HARD, so your bad ass car will go the damn speed limit. Got it? Good!
Thanks,
Aunt Crazy who is perpetually late and hates slow pokes
Dear school bus driver,
When you drive on the 610 loop, there is a lot of traffic. The Westheimer exit has it's OWN LANE and it's OWN EXIT ramp. Prepare, plan ahead, get the hell in the right lane a half mile BEFORE the exit, not 20 feet before the exit, while cutting me off. Not only do I not want you to crash into me, I damn sure don't want the kids on that bus injured and I do not want to have to imagine the faces of the parents receiving the call that their kids' school bus ran over a fat ass chick in a Trailblazer. Just PLAN.AHEAD. Got it? Good!
Thanks,
Aunt Crazy who wants a new car but would prefer NOT to be killed by a school bus driver to get it
Dear teenaged children that live in MY house,
Do what I say, when I say it, without ignoring me and without backtalking. Got it? Good!
Thanks,
Aunt Crazy aka Mom who may start knocking the shit out of the teenagers in MY house that don't do WTF I say!
Dear Uncle Bubba,
Stop working so much. It's not good for you, I'm lonely, the kids miss you, the dog is confused, and single parenting teenagers is NOT a job I signed up for. Got it? Good!
Thanks,
Aunt Crazy aka your wife who may desert you and leave you with these teenagers just cuz