It's time for
Letters of Intent
with
Foursons
who is the proud owner of a DSLR (finally) and the official Blog Dominator! Read my bullshit below, then head on over to her place for more, I promise, you'll enjoy yourself!!!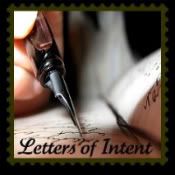 Dear
Momma Pixie
,
I think of ya'll every day, several times a day, you're never very far from my mind!
CANCER SUCKS
Love,
Aunt Crazy
Dear
Ian
,
Thanks for doing what you're doing! I'm here to help you in any way I can! Just keep me posted.
Love,
Aunt Crazy
Dear Cancer,
You SUCK, please vacate our Monkey NOW you heartless bitch!
No love,
Aunt Crazy
And of course, last but not least...
Dear readers,
Please please please pray for Momma Pixie and her family and that sweet sweet Monkey and if you have anything to spare, please click the Monkey Button below and donate a little...remember it could happen to any of us and even a dollar will help!!! Feel free to post either of the Monkey buttons on your blog!
Love,
Aunt Crazy
Click on monkey to donate...please help!