This has been a LONG week! Even better is I only have to work half a day today. It's time for Letters of Intent with Julie, THE blog dominator! Click the button...go ahead, I DARE YOU!!!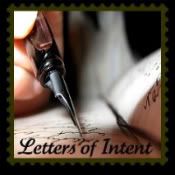 Dear daughter,
I hope you are having fun at UT softball camp. Your texts have made me smile and laugh! I'll see you this afternoon at McCombs Field...seriously!!!
Love,
Momma that's been missing you
Dear Friday Followers,
Welcome, have a look around, get to know Aunt Crazy, you'll love me, I promise!!!
Love,
Aunt Crazy
Dear Blog Dominator,
Can ya get a new computer already??? I miss you!
Love,
Aunt Crazy
Dear Uncle Bubba,
It's time man, way past time...apologize, let's talk this out and move on...or don't. If you choose don't, look forward to living in your travel trailer!
Love,
Aunt Crazy
Wanna meet some new bloggers and make some new bloggy friends??? You know you do...click the button below...it's FUN, I double dog dare you!!!