Today, I'm linking up with
Shell
for Pour Your Heart Out and
Julie
for Working Mom Wednesday. Both of these bloggers are full of the awesomesauce.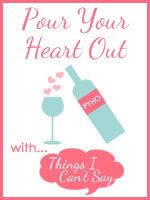 I'm using Julia's prompt about what I wanted to be when I grew up and it is a PYHO post because it comes from my heart.
I wanted to be many things when I grew up. I changed my mind often. I've always felt older than I really was. I guess some people call that being an "old soul" and I would have to agree to an extent. I stick true to my Virgo nature by being an obsessive list maker, needing a plan, craving organization. I also have an outgoing personality, bubbly even sometimes, friendly, and I've never met a stranger. These seem like two completely different personality types when I read them to myself and maybe Uncle Bubba is right when he claims I have multiple personalities...LOL I can remember wanting to be a Kindergarten teacher, a singer, a dancer, a CPA, an attorney, so many different things. I can remember wanting to go to college, then thinking that I'd never have the money for Texas A&M and deciding that I would join the Peace Corp and give in to my hidden, inner tree hugger. One thing I never wanted to be was a mom. There are so many reasons, some personal, some crazy, some rational, some irrational, some selfless, and some selfish, but all the same, I said I didn't want to have any kids. Now, I can't imagine how I ever thought that, how I ever imagined myself not being a mom. As all moms do, much of myself was sacrificed by becoming a mom and I continue to sacrifice in so many ways every day. Sacrifices I willingly make and sacrifices I begrudingly make. I wouldn't change it though. I would make the same choices time and time again if it meant I'd have my kids over and over and over again. Even on the days that I feel that I've utterly and completely failed at being a mom, my kids let me know that I haven't, that they love me and need me and that even when I struggle, I'm still the very best mom they have. They rock my socks!