I found a new blog today and I liked it and I liked this blog carnival she's got going, so I thought I'd join in. I've been thinking about writing something about this topic for awhile and her meme got my brain going. Her name is Julia and her blog is
Work, Wife, Mom...Life (Supermom in training)!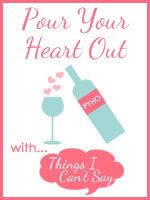 Mommy Guilt is a powerful thing. I've been dealing with it a long time, cuz my kids are 17 and 13. I don't really think I struggle with it much anymore. I have moments where I feel guilty about stuff, but it's over things I can't change and I move along quickly, but when they were younger, I felt it so often. It's gut wrenching and causes so much heartache. Mostly, I've realized now, it's unnecessary and not helpful and it is really a waste of positive energy. When I was growing up, my mom worked. I always thought to myself, when I grow up, I'll never work, I'll stay home, my kids will be car riders (not bus riders), I'll have the perfect life, perfect house and it will be sparkling clean, and I'll cook and bake and sew and just be "that" mom, the perfect one I created in my mind, the one that most likely, no matter how hard we try, can never really exist. It's too much for any one person to handle...EVER. Then I decided, while in my tree hugging phase of life, that I didn't want children. That I could never be the mom I imagined I'd be and that I didn't want to bring children into the world as I saw it through my young eyes. I wanted to go to college, Texas A&M to be exact, and become an accountant or a lawyer, and have a lot of money and my own things, things that I thought would make me feel good about myself and things that would make me happy. HA guess who got knocked up in high school...yep, ME...LOL and of course when you get pregnant, married, start a family at that young of an age, work becomes a necessity. I felt guilty when my son was at daycare, I felt guilty when I was at work wishing I was with him, then I felt guilty when I was happy that I was at work and he was at daycare. A few years later, we added a daughter to our family and I went back to work when she was 3 months old. The guilt, it was BACK...only double but in the same fashion. I would take vacation days to go on field trips and to attend school events. I was at every ball practice and ball game for both kids when the time came. I skipped out of work early to see their junior high and high school events. And still, I felt guilty sometimes. Guilty for not being at their beck and call because I was at work. Guilty for not being at work because I was away being a mom. Guilty because I enjoy working and the benefits it gives our family and the fun things we get to do because I work. It is always there but now I'm good at shooing it away because I know, deep down, we are better off as a family because I worked. For our family, it worked best, for other families they must do what works best for them. I struggle with moms not supporting each other and the choices they make for their families. I don't understand why moms, especially moms, can't find it in their hearts to be more supportive of each other. No matter the choice, working/staying home, breast/bottle, cloth/disposable, the list is endless and I think that lack of support causes most of the guilt we feel. We pressure ourselves and feel guilty others put pressure on us and we feel guilty. BUT (and there always is one) at the end of the day, we have to be able to look at ourselves in the mirror and know we did the best we could with what we had based on the needs of our own families. I think lately I have been feeling guilty over things I missed when they were infants and toddlers. First steps, first potty time, first anything that I may have missed while I was working and they were at daycare. I can't get those times back and feeling guilty about it does not help. I had all those firsts at home. It may have been their first time, second time, or even the 10th time, but for me, it was the first and I celebrated each and every time.
Guilt...it's like a parasite. It can eat you up from the inside out, but only if you let it, if you stand strong in your belief that what you do or did is the best for your family, then forcing that guilt out of your mind, your heart, your soul is so easy!!!