The Blog Dominator herself is hosting her weekly meme, Letters of Intent. It's fun times, so just do it, ok? Got it? Good!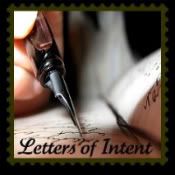 Dear teammates,
Step it up, communicate more, and work faster. Please, thank you!
Aunt Crazy
Dear airline that pissed me off,
I was having a really, really bad day, hell, a bad week. WHY oh WHY did you have to have a FOUR HOUR delay on a day that I was not exactly emotionally stable, causing me to CRY in the airport? What started out as a 15 minute delayed ended up with me sitting in the dang terminal for FOUR HOURS, waiting, NOT so patiently for a flight. In a strange city, with the smoking area eleventy billion miles away from my terminal, and each time I went to smoke, I had to go back through security. You know, take off my shoes, pull out my laptop, take my ziploc bag of liquids out of my purse. It was ridiculous! All you had to say was "we're sorry" no offer of a drink or food or another flight, nothing, just "we're sorry" and more waiting. Seriously, get it together. Oh and this was AFTER my first flight was overbooked to the point that you had to have passenger bags checked at the gate area AND ask THREE passengers to catch another flight, BUT, those three passengers, they were offered $350 towards another flight...seriously??? You intentionally overbooked, then gave FREE checked bags to other passengers after I paid $25 to check my bag, and then gave money to passengers that you moved to another flight, but when I was in the terminal, NOT so patiently waiting for my connector flight for FOUR HOURS, all I got was "we're sorry"...RIDICULOUS!!!
Aunt Crazy