I was going to blog this cuz we need all the thoughts and prayers we can get. I'm going to link up with Shell too because 1) I totally heart her and 2) see the first line, we need all the thoughts and prayers we can get.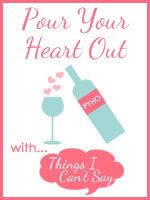 Our family is big, both mine and Uncle Bubba's. Our parents are both divorced and remarried, they have siblings who have spouses and kids, and we have extended family all around us, so BIG is kind of an understatement. This really has nothing to do with what all is going on, but my random brain seems to think y'all need to know this...LOL
Savanna has been having issues with her knees. She's been in physical therapy with little improvement. She has a follow up with the doctor tomorrow to see if he wants to continue the physical therapy or schedule surgery. Her elbow is also hurting her and we'll ask him to look at that tomorrow too. She's had tendonitis and physical therapy to fix it before.
Chance is still not feeling 100% even though we have a diagnosis and a prescription. I need to call the cardiologist but he doesn't want to go to the doctor.
My sister in law is having surgery 4/11 to have at least half of her thyroid removed, maybe all of it. They found cancer cells in the biopsy but won't really know anything more until after the surgery.
My mother in law is having knee replacement surgery 4/12.
My brother in law if having knee surgery 4/13.
Uncle Bubba's step-dad turned 75 recently. On his birthday, he was diagnosed with cancer of the throat. He has it in one lymp node and we found out yesterday that he also has cancer of the thyroid. He begins chemo/radiation on 4/11, he lives 3 hours away from all of us. If he does not have the treatment, death is imminent. The treatment itself could actually kill him. Damn the luck.
On top of Uncle Bubba working pretty much around the clock, all the stuff that goes along with having a senior in high school, me working, me running Savanna to all her appointments, lessons, and practices, now we are worried about all of this.
Trying to plan Easter and a graduation party and arrange senior pictures and make sure I don't forget who has to be where when, is making my brain hurt and tired.